Start your living wage program now
We understand that living wages is a complex topic, but many factory workers are still underpaid. That's unacceptable. It's time to start your roadmap towards living wages, and to help you do so we have collected the most recent insights, cases, tips and tricks in a free online tool.
All brands can take steps in the countries where production takes place.
The question is; what does your roadmap look like?
What is a living wage?
A living wage covers the real cost of living, earned in a standard working week, without overtime hours. In most cases, a minimum wage is much less than a living wage. It may seem like workers earn a living wage, but often they work many overtime hours to cover their monthly expenses. A normal salary of a hired worker should cover the real cost of living, including all monthly expenses and some savings. Just like your own salary does.
The net wage of a worker should be on living wage level, and earned in a standard working week of no more than 40 hours per week (with a maximum of 8 overtime hours). The net wage should cover:
Road to living wages
Understand living wages
Understand the concept and why you should act now.
Find out where you are
Check your supply chain and the wage situation in your countries and at your suppliers, by engaging them in a transparent and trusted way.
Take action
Discover what your roadmap to living wages looks like and start the approach that best suits your company and situation.
Monitor, engage, improve & communicate
Continue the cycle of improving collaborative action and communicate your efforts to boost system change.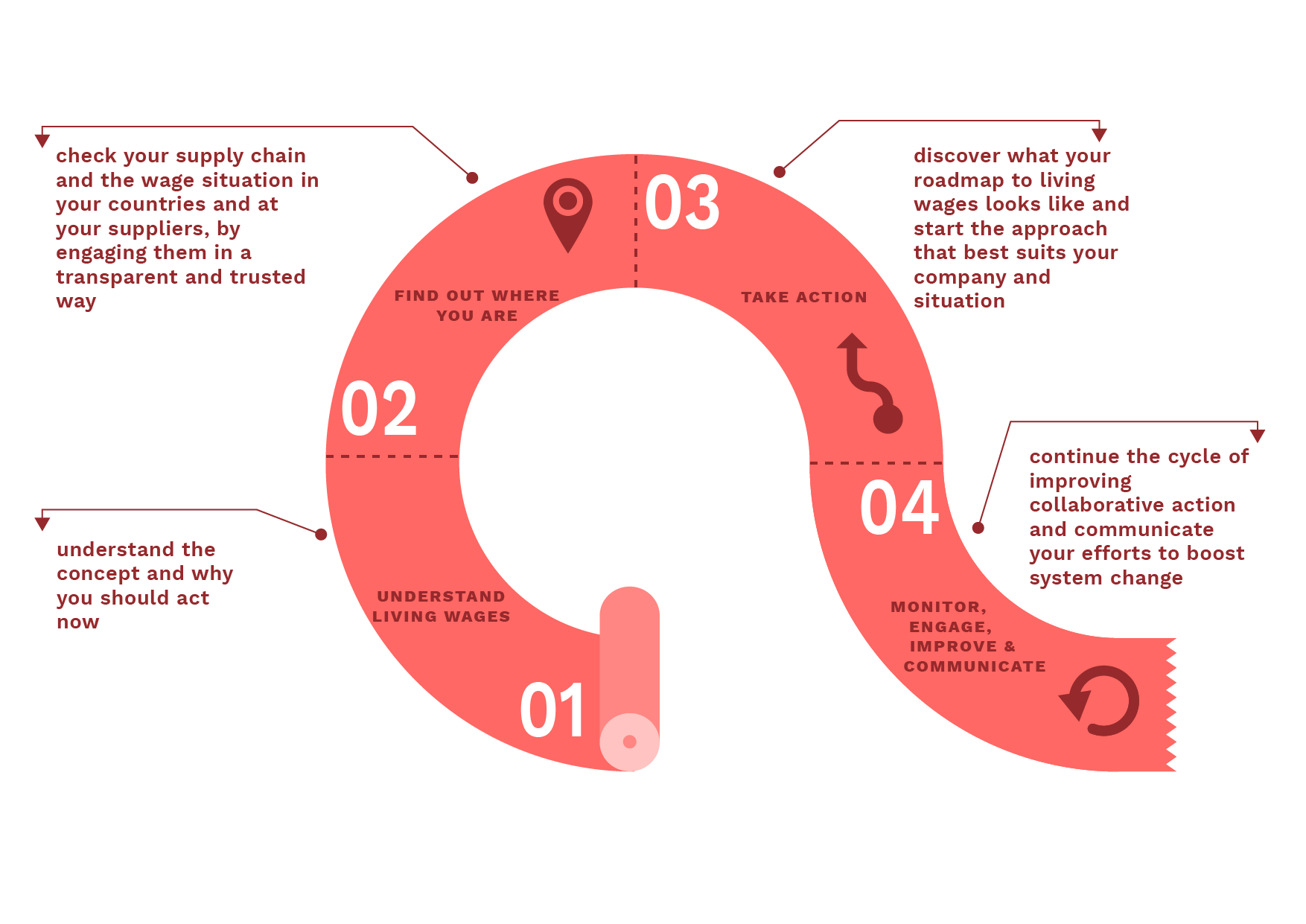 Your roadmap
With the experience of partners and brands, we want to show that working towards a living wage is possible. Therefore, we've developed a free tool. In 10 steps we'll help you to decide on your roadmap to living wages.
We'll help you with every step on the way; doing a risk analysis, preparing your organization and supplier, calculate the living wage (gap) and preparing the workers. The tool contains a quickscan, decision tool, country profiles, 11 cases and a lot more.
Start your program now
If you're interested in starting a living wage program, and need our help. Let us know by submitting the form below.
LATEST NEWS
Posts about living wages from our blog.