A truly Beautiful Story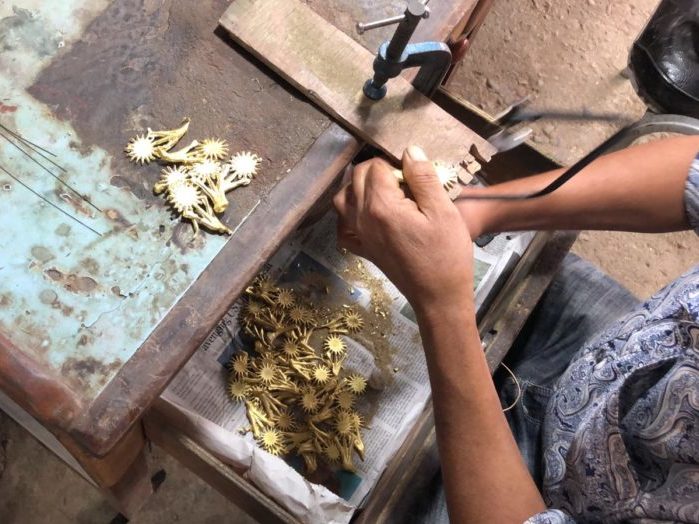 A story about how Living Wage Plus can transform lives
In 2005, founder of accessory brand A Beautiful Story, Cathelijne Lania, walked into a jewellery workshop in Nepal. Impressed by their work, she immediately saw opportunities to sell the beautiful accessories in The Netherlands. Because she wanted to share the beautiful stories these jewellery pieces were telling, but also because this way, she could create more employment for the women in Nepal. This was the start of A Beautiful Story.
In the years that followed the company grew enormously. Currently more than 75 artisans are working on a full-time basis on A Beautiful Story accessories in Nepal, which are being sold all over the world. Despite the amazing contribution that A Beautiful Story has been making to long-term employment creation for years, the brand still had a lot of questions about the impact that they were making: are these jobs really contributing to the development of the artisans and their families? And how can we become even better at this?
A living wage
Just having 'a job' is not the only aspect that contributes to sustainable development. A job with good working conditions, reasonable working hours and a living wage does. A living wage means that a person earns enough for food, housing, water & electricity and clothing. There should also be enough money to travel to work, to pay for the education costs of their children and healthcare. To conclude, it is important that a family can save a small amount of for unforeseen events. Unfortunately, in many countries in the world, a living wage is not the standard. Shocking fact: a living wage is in most countries twice the local minimum wage. This can lead to excessive working hours, having two jobs and even keeping children from school as tuition fees cannot be afforded or because the children have to support the household management and -income as well.
Living Wage Plus
Together with A Beautiful Story we did an in-depth research on the wage component of the two workshops where A Beautiful Story produces its accessories. This gave us the confirmation that 100% of the Nepalese artisans is earning a living wage based on Nepalese standards. It is A Beautiful Story's vision however, that a living wage helps to cover all basic cost, but is not enough to contribute to the long-term development of a family. To realise this, a wage needs to be even higher than a living wage. This led to the introduction of Living Wage Plus: a living wage, with extra attention for financial empowerment & savings and high quality education for the children of the artisans.
Plus financial empowerment
Financial stability is incredibly important to raise a family out of poverty, and a living wage contributes to this. But when you are talking about financial stability, you need to make sure people are financially literate as well: earning a living wage is one, but has a person for example ever learn how to save? Does she have a bank account for savings? And does she have decision-making power over her own earnings? It is therefore so important to be aware of and work on the financial empowerment and literacy of the artisans making your products. And this is exactly what A Beautiful Story is doing now. How can the artisans use their money in such a way that it contributes to their own happiness & development and that of their families?
Plus education
Besides this, all the conversations we have with artisans showed us that their big dream is that their children are able to go to high quality schools. With good education, their children will get better job opportunities and experience a different future than their parents have had themselves. Standard living wage calculations work with public school tuition fees, provided by governments, with not always the best educational reputation. To make it possible for the artisans – the "indirect" employees of A Beautiful Story – to send their children to better schools, together with A Beautiful Story we created the second part of the Living Wage Plus model. In short this means we do not work with tuition fees of public schools, but with the much higher private school tuition fees.
Our role in the project
A Beautiful Story is a social enterprise pur sang. Every single person working for the inspiring brand is focussed on increasing his or her social or environmental impact. This gave us the opportunity within this project to act as an external source of inspiration, ask critical questions as coach, exchange knowledge & experience and support the team to put in place a certain way of working. With this coaching approach, the A Beautiful Story team will be able to work on Living Wage Plus and related projects themselves, instead of being dependent on us as an agency.
Interested in realizing Living Wage (Plus) for your producers?
Get in touch: d