Golden rules for green fashion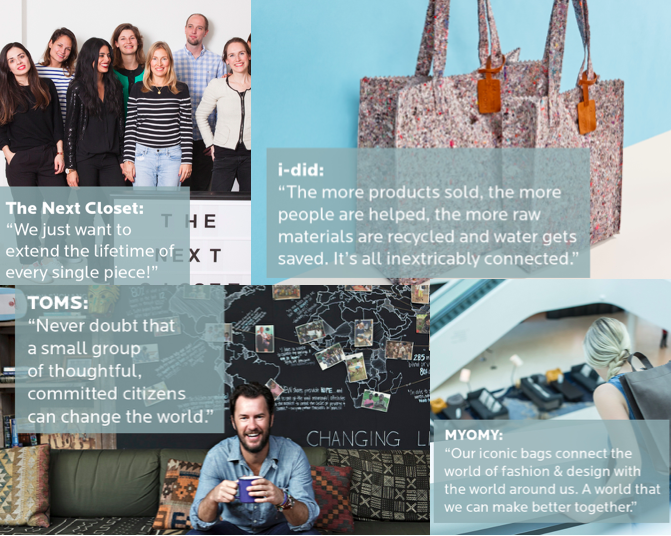 Are you familiar with the story behind your fashion items? Last week, the Dutch Sustainable Fashion Week (DSFW) drew attention to a topic of rising importance. We cannot neglect it any longer: the fashion industry is still the second most polluting industry. We are more and more familiar with its footprint. But what's next? How can we move on, identify opportunities that emerge and turn threatening aspects into opportunities? 
Last year, we introduced our Positive Impact Creators: brands in fashion, food & more that exist to create a positive impact in our world. Our Impact Creators are on a mission and utilize their brand & business to the full, in order to accomplish that.
What golden rules can our impact creators in fashion teach us?
1) Extend the lifetime of your products
In an era of take-make-waste, it's easy to tell that sustainability is not yet the norm. When you are familiar with the story behind your jeans or skirt, it would be insane to treat it like a disposable product. It takes raw materials and loads of water to grow, labour efforts to produce and (chemical) excipients to finish.
The founders of The Next Closet defined their mission around this topic. They draw attention to fashionable second-hand items. "Second-hand is sustainable from its core, as you re-use what has already been fabricated". That's how they extend the lifetime of every single item. Read more about their impact mission.
It takes a lot to create wearable textile. The journey from raw material to soft sweater is a long one, not to mention the footprint it leaves. Still, the value chain of fast fashion has a linear shape. How can we create a breakthrough and stop thinking about items as being disposable?
The biggest potential for circularity in fashion is hidden within recycling. We can get more out of our resources and decrease the footprint of every single item when we close the loop, start reusing original textile fibres and revalue them into new products. Impact Creator i-Did is doing this currently, by tapping into the full potential of textile materials. How? Read it here.
3) Create fair design and build a story around it
Besides life-time extension, we can create positive impact at the start of the value chain too. Like our clients MYOMY do goods and Return to Sender are creating positive impact by producing fair products. The brand is empowering its Indian artisans, that create their iconic designer bags with sustainable materials. This is how MYOMY create jobs for its makers and offer them fair incomes to spend on health & education for their families.
MYOMY shows that beautiful design, business & sustainability can go hand in hand. Read here how they tap into the opportunity of fair design and create a positive fashion movement with it.
4) Rethink your business model
Another meaningful brand that creates tangible positive impact is TOMS. This brand built its business model around impact and empowers consumers to contribute to change that way. TOMS is running a buy-one-give-one model and integrated the whole aspect of giving at every level of the business. "We are committed to giving in a sustainable way, meaning we forge long-term relationships that keep giving and innovation at the forefront of our business." This impact creator shows that you can take business beyond profit and contribute to positive change in the world, by means of your business model.
Learn more?
Four impact creators, exhibiting four golden rules for impact creation that you can apply in your business too. Want to learn more about what sustainability can mean for your business? Contact us or sign up for our fashion newsletter and we'll explore together where your impact potential lies.