MYOMY do goods – Changing perspectives, one bag at a time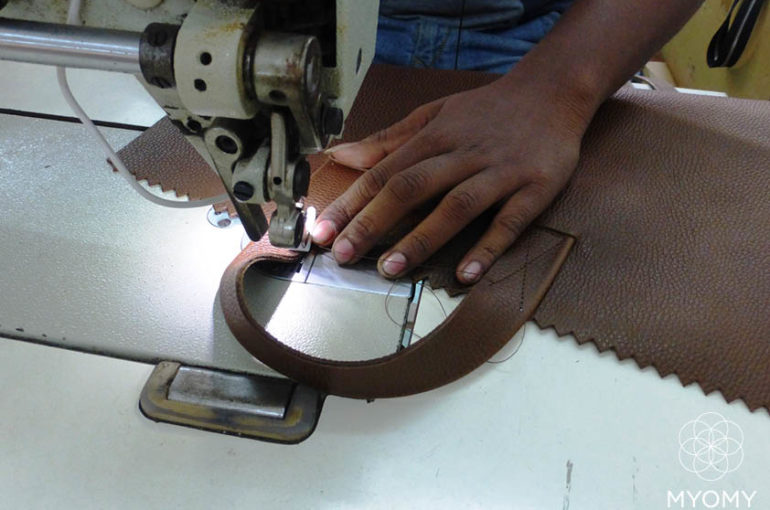 In the fast changing world of fashion, we see a rise of brands that are founded with a different mindset: a mindset that's social and sustainable from the start. MYOMY do goods is one of those brands that is founded as a world improver with one clear purpose: 'contributing to a better world by making beautiful products'. MYOMY is in business to empower the people around her and knows how to combine her impact mission with an ambitious for-profit business. Learn more about their pathway from purpose to the most wanted bag in the Netherlands.
TURNING A CHALLENGE INTO A COLLECTION
What would leather fashion accessories look like if we would only use responsible raw materials and produce them in a fair trade way? This question marked the start of MYOMY's impact journey towards a better world in 2007. Their first collection of bags and accessories – then under the name 'Goodforall' – was an immediate hit and became a direct motivation to build further on. Now, MYOMY is creating iconic design bags, made from responsible leather by proud men and women in India. In the meantime MYOMY has evolved into a Dutch sustainable fashion brand that designs, produces and trades iconic bags with a conscious spirit.
Our collections embody everything we stand for. Our iconic bags connect the world of fashion & design with the world around us.  A world that we can make better together.
From iconic bags to iconic people
MYOMY's purpose is aligned with the overall impact mission to empower the people around her. MYOMY developed four brand values that are in line with this mission. These values are the conditions for everything they do. Their mission aims at strengthening all stakeholders in MYOMY's world. From producers to consumers, and all stakeholders in between. Production partners are empowered by following the WFTO 10 principles of fair trade, as a kick-start to socio-economic development. The jobs generate an income and access to health and education for the producer's families and it contributes to welfare for the entire community through taxes and investments. This results in proud and healthy producers who are truly empowered by their work.
Contributing to a better world is in our veins: since we started, our team has been dedicated to show the world that it is possible to build a fair and sustainable fashion brand with beautiful products that add value to the world.
sustainability and the consumer
In order to increase her impact, MYOMY is maximizing her market share through meaningful marketing activities. Besides her producers and own team, MYOMY also aims to empower consumers with her brand campaigns. For many social brands it is a challenge to find the right balance between their impact mission and the needs of the consumer:
We often see that sustainability is not the key driver in the buying decision of consumers.
To find the right balance between their impact mission and the needs of the fashion consumer, MYOMY has chosen to combine the benefits of looking good and doing good in her campaigns. "Even though we see a shift in awareness among consumers, we believe that the one is not working without the other in fashion". In the coming years we will work on building a meaningful brand around the 'empowering people' mission with a message that appeals to the Western consumer. Through the combination of meaningful storytelling and unique design bags, MYOMY wants the fashion-loving consumer to feel good and be proud of her contribution to do good.
Maximizing market share & impact
We see a growing amount of brands aiming for a more sustainable world. But it remains a big challenge to align this mission with the needs of the fashion-loving consumer. MYOMY focuses on sharpening her brand positioning in line with the overall mission and needs of these consumers. From the sustainable fashion week to supply chain optimization, new and meaningful activities will be launched in the coming year. This creates the opportunity to increase market share, and so their positive impact in this world. An example to keep an eye on for other sustainable fashion brands!
More inspiring stories of our positive impact creators you can find on our Facebook page or Instagram!