The Next Closet – Making Circular Chic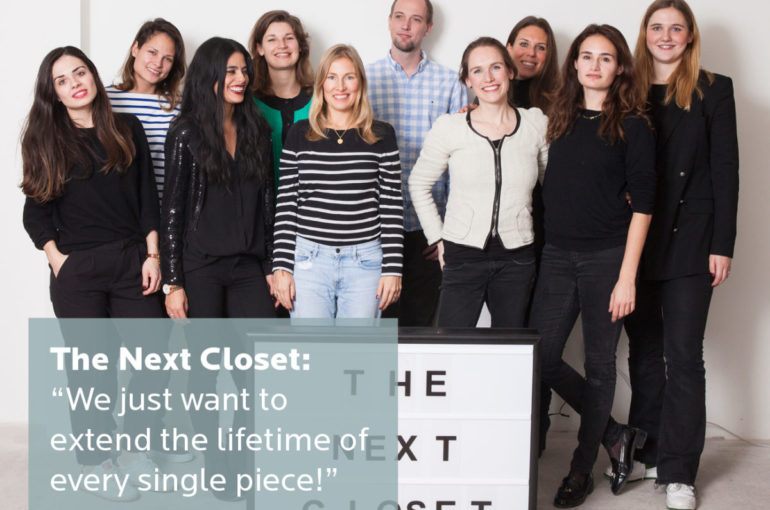 We witness the increasing amount of fashion brands that become more and more aware of their supply chain. Traceability, working conditions and sustainable materials are of rising importance. But what is happening with our items at the end of the chain? How can we show people the need to close the loop, especially in fashion? The Next Closet (TNC) is an online market place and app for pre-loved designer clothes, aiming to make a positive change to the world of fashion. This start-up combines high-quality fashion and a circular approach. We spoke to one of the co-founders, to talk about the impact The Next Closet aims to accomplish…
Sustainable from the core
The founders, Thalita van Ogtrop and Lieke Pijpers, are aware of the polluting nature of the fashion industry. From material sourcing and chemical use to waste and water usage. After having started their own campaign agency in 2010, with a focus on sustainability, they wanted to apply their creative and online skills in one BIG sustainability campaign. The idea for a fashion resale platform was then born…
Second-hand is sustainable from its core, as you re-use items that have been fabricated already. It's just about extending the lifetime of every single piece.
The two decided to start The Next Closet and wanted to give a twist to the image of 'second-hand' fashion. As a platform for all fashion lovers, TNC serves both sellers and buyers. "The Next Closet brings together our passion for sustainability and our commercial skillset". This considered to be a great combination: both for this online marketplace to grow, as to create awareness for sustainable fashion.
A circular mindset
To create impact in the long run, it's important to consider sustainability as something that really remains. The first and most logical solution to this is product life extension. This way more value can be created – or more customers served – with the same amount of resources. We need to adapt a circular mindset and explore all opportunities the circular economy is offering us. The founders of TNC recognized the big potential of extending the lifetime of designer pieces. To spread the word and maximize impact, TNC focuses on its main mission. This mission can be described as mainstreaming the re-sale and re-use of high-quality and unique second-hand items.
The reason we started our company was to improve the textile chain and make a positive impact in the world.
Involving customers in quality
The startup wants to increase the life of garments by finding new owners for every item on their website. As brand, TNC wants to inspire the community to buy (new) fashion items of good quality, because these have resale value. TNC has multiple tools to its disposal to realize this endeavor. First, the brand informs her customers regularly on its blog about investment pieces and practical items on how to improve the quality of items. Also, they try to add many ecological brands to their collection, that pursue a beautiful mission and showcase them on their platforms.
In interviews with style influencers, TNC tries to explain or teach the readers what quality is and how cool second-hand fashion can be. "This is important because many customers  do not buy second-hand items because of the sustainable purpose. Hopefully they become more aware of our mission and understand the value of quality and second-hand, by reading our blogs and interviews". Lastly, TNC closed valuable partnerships so that the items that aren't sold can contribute to a social cause (like Dress for Success). Also, partners like Circle Economy helped to ingrain circularity into the DNA of the organization, right from the start.
TNC's impact potential
By embracing circularity and tapping into the opportunities of product life extension, The Next Closet can be considered a Positive Impact Creator. The main pillars for the brand to (continue to) create big impact are:
Longer life time value: by providing a platform that assigns a new owner to an existing item.
Less production: per kg of clothes TNC sells, 600 liters of water, 3 kg of CO2 and 0,5 kg of chemicals are saved.
Demand for quality over quantity: by inspiring people to invest in quality brands that last and have resale value.
The textile chain of high-quality second-hand clothing in the Benelux already exists of more than 2.7 mln items per year, only counting female items. Imagine what impact can be made when circularity in fashion grows for everyone throughout Europe!
Growing a meaningful brand
It's inspiring to see so many brands tapping into every aspect of sustainability and exploring the specific approach that suits them best. For The Next Closet it's in tapping into a growing need, changing mindsets when it comes to second-hand items, monitor good quality and stimulate people in this behavior. A simple solution that addresses the need for sustainable fashion and shows that together we can decrease the footprint of this industry!
Only set up a brand with values similar to your own.
In advising other entrepreneurs, Thalita  tells us: "Only set up a brand you truly believe in and which addresses values that are similar to your own. Personally, I would only want to set up a brand that improves the life of our planet. Test, test, test and measure! Go live lean and mean, while measuring and improving your product". We are proud that these entrepreneurs strive to make circularity chic again. Together, we can reduce this industry's footprint and keep working on conscious fashion consumption in the coming years. Want to be inspired by more impact creators? Like our Facebook page to follow all stories!