TOMS – It all started with a need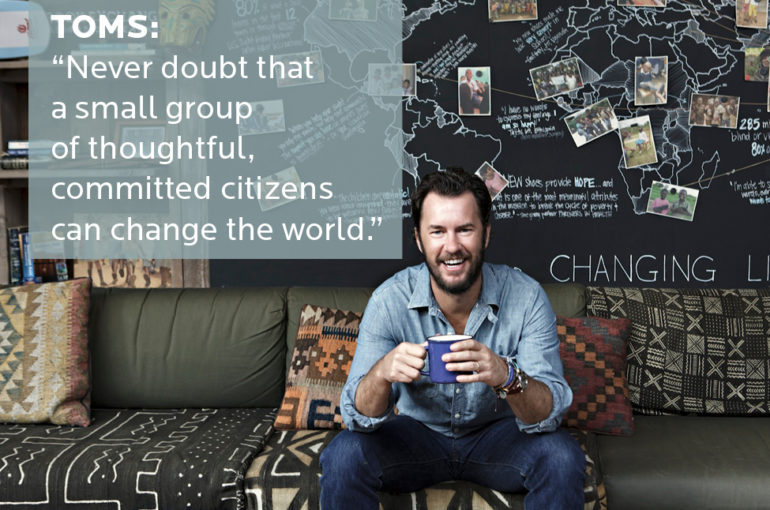 Using business to improve people's lives. That's how it all started for TOMS. The brand was initiated to start helping out one community. Today, TOMS has grown out to be a great example for other consumer brands. One-for-One is their well-known business model. With every pair of shoes they sell, they're able to help a person in need. At TOMS, social impact, meaningful branding and building a successful business all come together, but not without challenges and obstacles. What can we learn from this for-profit business concept that evolved from small-scale social help? Find out how they make it happen.
It all started with a need
While visiting Argentina in 2006, TOMS founder, Blake Mycoskie, noticed that a lot of children in rural villages were in need of shoes, as well as the hardships that can come a long with that. He was inspired to find a way to solve this problem. What started with an action to help one community, turned into a bigger idea: a business plan to enable consumers to help people in need, through an everyday purchase. For every pair of shoes purchased, TOMS (Tomorrow Shoes) would give a pair to a child in need. One for One.
For TOMS, giving is at the heart of everything they do. The whole business started as a social mission and the business model was built around that, not the other way around. After seeing how powerful this model could be, TOMS realized they could use the same concept to fill other needs. That's how the brand launched other concepts after five years of giving shoes. TOMS Eyewear and TOMS Roasting Co. are meant to provide safe water and support safe births for mothers around the world.
Giving is at the core of our DNA, and it's built into every purchase. It's what got us here and it's where our future lies.
The strength of their model
TOMS created a strong business model, by integrating the whole aspect of giving at every level of the business. The strong relationships they have internally and externally enable them to realize this model. A dedicated team and working with many partners is key. TOMS is working with some of the leading nonprofit and humanitarian organizations, which offer deep experience in international development and poverty alleviation. By working close with them, TOMS can determine how their giving can add most value to the community. 
We are committed to giving in a sustainable way, meaning we forge long-term relationships that keep giving and innovation at the forefront of our business.
This way, the Giving Shoes project is integrated in their partners' larger health, education and community development programs. The commercial success of their business is allowing them to grow the giving part incrementally alongside it. Now, TOMS is offering multiple types of Giving Shoes for varying needs. Think of winter boots for children in Nepal and school shoes that fit the criteria for school uniforms in India!
Learning from challenges along the way
"Giving shoes is harder than selling them. There is no road map for what we are doing, so we've had to learn to be resourceful, bold, humble, and great listeners." By being open, critical and asking their partners for feedback has played a major role in developing the brand. They continuously keep an eye on the challenges their partners face. There's a lot of work and cooperation that needs to happen before a pair of shoes actually arrives at one child.
Not everyone seems to understand that social enterprises can operate a viable business model at first. At TOMS, they noticed that a lot of other companies and entrepreneurs have started to adopt similar models. As a real initiator, the brand sees this as an accomplishment too. Innovation is key to stay relevant while continuing what the brand is doing. However, for TOMS it's important that their basis is solid: starting with a need.
Empowering people to make a change
The special thing about TOMS is that they empower every customer to actively and directly impact someone else's life in a simple way. The customers who buy the shoes share the same ideology and become part of the brand's community and movement. Besides consumers, they want to empower other entrepreneurs too. Sharing what they've learned and growing the social entrepreneurship community is important for the brand. That's why TOMS is doing what they can to provide a stage for up-in-coming social entrepreneurs. This year the TOMS Social Entrepreneurship Fund was launched, to invest in companies with a social mission!
Start growing your impact
The privilege to partner with some great designers, celebrities, brands and organizations has brought them a lot and enables them to support specific causes. With this, the impact they aim to make gets maximized. Now, what started as a simple idea to impact one community, has turned into a social enterprise that has touched millions of people around the world. But the real impact for TOMS is in the personal stories that happen every day in the field, as well as the long term waves of change.
Never doubt that a small group of thoughtful, committed citizens can change the world. Indeed, it is the only thing that ever has.
Business beyond profit
More than revenue, TOMS is celebrating impact as a guiding achievement: in their business model and in transforming the business conversation about making a difference in people's lives. Making impact can start small-scale and can grow from there. At Rainbow Collection we believe more brands should take this business model as an example and start realizing their own impact. Work with the right tools and people to make it happen. More inspiration of our impact creators you'll find on our Facebook, LinkedIn or Instagram.