You need to stay close to yourself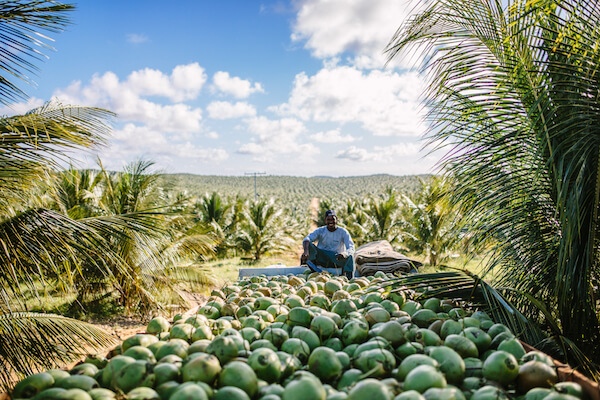 How Obrigado brings meaningful ideas into practice
Interview with author & global marketing director Mark van de Grift
Brands have the capacity to contribute in a positive way, but where to start? As author of the book TRUE brands, Mark van de Grift brings his ideas into practice at Obrigado where he is the global marketing director. This brand produces sustainable and natural coconut water and is looking after the social and natural environment, while keeping the Bahian spirit alive! We interviewed Mark to learn more about this meaningful brand and how the lessons from his book are put into practice:
At Obrigado we follow the building blocks of a TRUE brand: Transparent, Responsible, Unique and Emphatic. These elements are all part of our brand DNA as we want to share the real and honest story behind Obrigado. We started concretizing Obrigado's brand identity, together with our American and Brazilian colleagues. Our brand has one clear mission: to multiply goodness. We want to fulfill this mission in many ways and do so with various activities that stress the meaningful and sustainable aspects of the brand. Making healthy products, like coconut water and coconut oil in the future, is central. By deploying a specific extraction method, we are able to offer 100% natural products: healthy and pure coconut water!
In the production processes of Obrigado, the brand chooses for sustainability by acting in a qualitatively good and efficient way. This gets expressed in specific methods and ways of working. Firstly, the farm is divided into small fields that are assigned to different arista's (local farmers). Each arista is looking after his own share of land and feels the responsibility to take good care of this. Secondly, methods like precision irrigation, make sure that the care of the palm trees is as efficient as possible. With unique barcodes, the arista's can send specific information about the needs of each tree to a control room. By the precision of this system, the tree receives exactly what it needs: a sustainable method that's efficient and causes a high yield. The result is that Obrigado only uses 30% of the land – where it may use 60% – and makes sure the other 70% remains untouched rainforest. Finally, the brand enhances sustainability efforts by re-using waste products or by developing machineries that can create energy out of it, that can be used for the local factory.
As a TRUE brand, we value the local context and that's why we want to make a positive contribution to the lives of the locals. Before the brand was even finalized, the owners felt the sincere need to help the local community. This started with setting up school facilities and kept developing from there. It's one of the pillars of the brand and it's an expression of our gratitude. We want to be transparent and keep this alive by inviting people over to our factory. This is how we want to engage them and grow an empathic brand. We have nothing to hide, we just want to run a true and honest operation for all people involved.
Also, by being TRUE we want to create a great fundament for meaningful projects and communications. We link our communication and marketing activities to the 'Bahian Spirit': the positive spirit of the Brazilian state we're established and which is happiest according to locals. The colorful and happy flow is driving this positivity and is a great context that fits the brand's identity perfectly. The most important advice I could share with other brands is that the actual value of your brand is close to home. It's not a matter of creating something: it's already there. It's about finding and appointing this value and bring it into the lives of your consumers in a relevant way. This requires you to stay close to yourself and find your own essence. It is this essence where you should draw from and where you can find your meaningful input.
If you truly care about people, embrace your personal mission and make one step at a time. Try to make it almost an automatic response: to continuously look for the value you can add to the world, to the lives of consumers and to employers and the community where your organization is part of. Many brands lost this somewhere along the way. Their mission may be identified, but isn't really felt by the people that matter most to them. Finally, as a brand you should talk to your people, open up for ideas, be curious and be bold. There's so much to learn!