Five trends among today's changemakers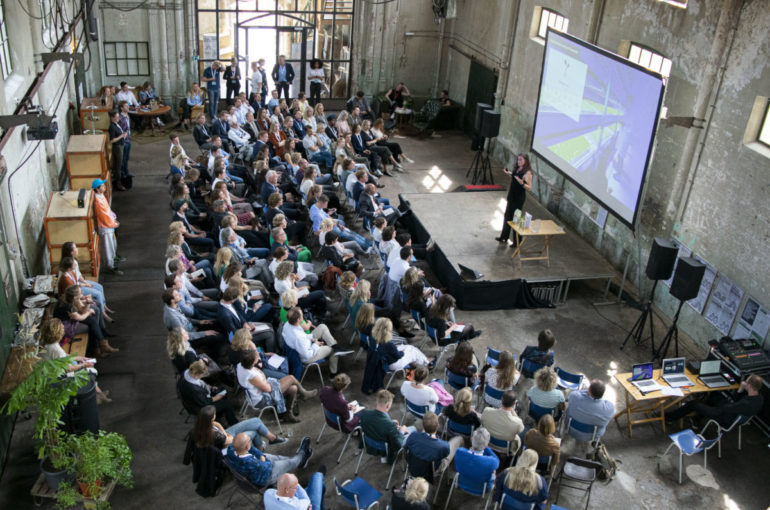 On Thursday May 23rd the Changemaker in Retail took place. An event that didn't only focus on initiating change, but also offered a stage to changemakers who just started and were ready to share their story and successes. In this new stage of the economy it is important that brands earn their place on the market by being relevant. This relevance corresponds with a clear vision of the future, or a business model wherein sustainability is naturally intertwined. The guest speakers at the event showed how they introduced changemaking as the new 'normal' and how they used their to do so. How do they invest in the world with their product or service? And how do they make a success out of an impact brand? These are five trends that were spotted.
# 1 Activism for impact
In a world full of challenges consumers more often expect that companies look beyond their own benefits and positively contribute to societal issues. Even more important is that enterprises with a social or environmental related mission realise their potential to make an impact on this issues, beyond their own direct activities. Companies could speak up in decision-making processes or involve in how markets and supply chains are arranged. This becomes part of their mission, and shows that they are committed to make of difference.
 Companies integrate in politics or advocate moral leadership towards the theme's close to the heart. This way, values of brands or visions of the future are being translated to political activism. Think about Tony's Chocolonely campaign against child labour, to produce 100% slave free chocolate or Lush's efforts on European level to come up with no-animal alternatives for [animal] testing. They present: we do what we stand for. It's not just about the direction you point your brand towards, but also about the attitude and achievement you actually do, to move towards that direction.
# 2 Transparency as handles towards sustainability
Sustainability starts with knowledge. There is still so much crucial information that we don't acknowledge. There is growing obligation to have more insight in what is happening with the production and consumption of goods. If we take a look at the supply chain; what is then really the impact of a pair of jeans on the life of the manufacturer? A 'true' overview of the costs could be a means for product or supply chain innovation. Besides, being transparent and sharing you innovation and methods could work as a katalysator to trigger sustainability. The 'Open Chain' of Tony's Chocolonely is an example of this. Via a platform their findings about the supply chain are shared with others. This has helped Albert Heijn to make their own label of chocolate more sustainable and traceable.
Not only in the supply chain, but also at the end of it we have the possibility to steer towards more sustainable product use with transparency. Homie Pay-Per-Use does this by presenting the impact of consumer behaviour more insightful. This way, the start-up points towards sustainable behaviour, what carries big potential impact and by which the consumer can not only save a lot of money, but also can reduce their water and energy use. At the same time Homie increases their strength with a sustainable business case.
# 3 Creating impact by telling a story
It is an amazing development that more and more companies are measuring and auditing their impact in the supply chain. These researches provides a valuable flow of data and knowledge, which you can communicate back to [your] consumers. However, just dry data is not that easy to move people and connect them to your brand. You'll need a story. Some data is hard to quantitate or should put in the spotlight in a different style. What does it takes to communicate your biggest achievement or most valuable improvement in a personal, creative or visual way?
Storytelling is a powerful tool to not only inspire and push consumers to make a difference, but also other companies. Through storytelling people can identify themselves with the underlying story. By strategically using stories the level of opportunities increases. Not only to show people what you're doing, but also where you're in this journey, what part your brand has and how you create impact.
Justdiggit shares the results of its projects to green the earth with strong images, to let nature speak for itself. Lush uses the strong connection between genuine scents and vivid memories to tell the story of their products, which can be actually personal and share emotions. If you use the power of storytelling the right way, consumers will join the impact movement your brand has started as brand ambassadors.
#4 The building of an impact economy
The new economy is an impact economy. In this impact economy brands calculate the true cost of the products and services. Insights of this true price could help decrease the the cost price, for example through product and supply chain innovation. A recent study by ABN Amro and Impact Institute reveals what it would mean if we would use the true price of a pair of jeans, including social and environment related costs, as the retail price. In the impact economy companies will not only support each other financially, but also at a societal level. This provides an opportunity to demonstrate leadership and the fact that companies want to deliver care on the long term for this planet. In the impact economy we will not only carrie this responsibility, we will also focus on innovation to accomplish the well-being of the earth. The search to alternative materials, with a lower true price, is an example of this. Or reducing the relative costs by extending the lifespan of a product.
#5 The store as hub providing inspiration and education
The fast expanse of online shopping has changed the role of the physical store. Online and offline are intertwined and this has led to a revaluation of the physical store. But what does this mean for the sustainability process of retail? Traditional sell and stock models are no longer in use, this creates room for a new realisation of the role of stores. It generates opportunities for offline stores to become hubs that can provide knowledge, education, experience and inspiration. Think about the spots of sustainable paint brand Fairf, where the experience of the product are the main focus. Likewise, this new function of stores gives the opportunity to inform consumers about the production, the challenges that occur in the supply chain or how innovation is used to get more sustainable.
As the centre of inspiration physical stores could be part of a storytelling and transparent narrative. All with the purpose of increasing impact by communicating open and honest what you're doing, where you are and where you want to go.