i-did – Combining forces for impact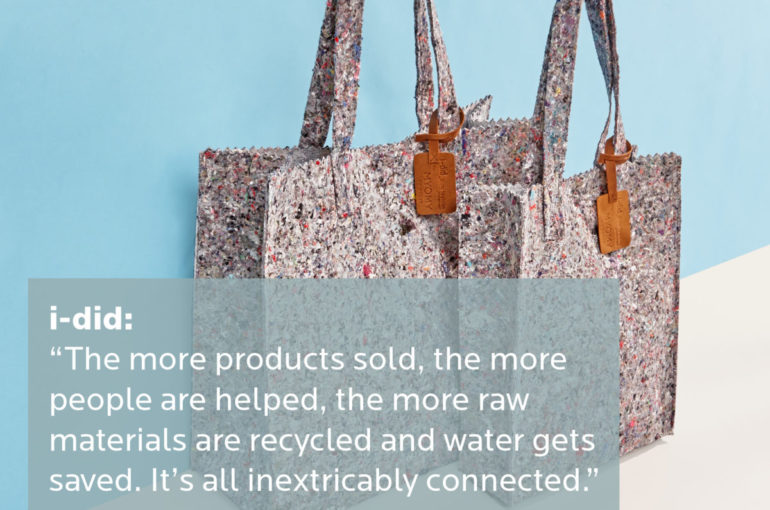 Meet our latest impact creator: i-did. A social enterprise with a valuable business model. One that is keeping the wheels of positive impact oiled. i-did believes in a social and circular society. Where we get the best out of our resources to make the biggest impact. The potential of textile materials – and the people that make beautiful products out of them – goes beyond our expectation. How can we bring the value that's hidden in past products or underestimated labor forces to the light? i-did is creating impact by revaluing worn-out textile materials and creating new products out of them. The enterprise is showing us that we can all keep the circle spinning. As long as we combine forces and keep looking out to the opportunities that we're offered.
A twofold impact mission
The social enterprise i-did believes in a society in which products and raw materials aren't thrown away, but are reused and reproduced under social conditions. That's why the enterprise creates new value out of damaged, old or unsold textile products. Mostly delivered in the form of damaged clothing and companies' or consumers' textiles. New material, a circular felt, is made out of this textile waste and talented people with a distance to the labor market create design products out of it.
The mission is twofold – and both aspects complement each other perfectly. Working together with businesses and fashion labels is providing i-did with textile input and a sales market for the recycled products. Empowering a group of talented employees enables i-did to contribute to inclusiveness and prepares these workers for the bigger labor market.
Creating a social circle
What started as a personal story in 2009, became a social enterprise. Founder and director Mireille Geijsen wanted to contribute to a more inclusive society. Employment could be the right tool to connect people: to each other and the surrounding society. Starting a social enterprise appeared to be the best step to take. Right now, i-did is a successful social impact organization with a unique learning trajectory. Combining working experience with education and training enables the participants to get the best out of their talents. All factors to truly empower them are build-in and taken care of along the way. That's how i-did created a real team family. "At i-did we want to stimulate the outflow too, of course. It confirms a successful trajectory, but taking the next step again can be hard too". 
By adding a training aspect, all factors to truly empower our workers are build-in the trajectory
The good thing is that i-did also shows every worker the bright side of their job search. Presenting work as a creative and social activity. "We try to endow our participants that every employer can offer the benefits they experience at i-did". And after an educative and intensive period, most of them are more than ready to find that out by their selves. Key is that i-did's working places are – and will always be – a tool to activate people.
The perfect complementation
Looking at i-did, we clearly see that environmental and social impact goals can go hand-in-hand. In order to work on their circular concept, i-did needs workforces. And in order to empower their workers, i-did needs work to offer to and guide them. That's how their twofold mission gets concrete shape. And as the concept appeared successful, the enterprise is ready to take it to the next level!
The goal is to create as much support for this concept as possible, whether that's from a design or an environmental or social purchase argument. The main focus of the enterprise is business to business. But it's interesting to gain more insights in what moves consumers in the end. "We started the business from an educative and informing motive as well, but now we stick to our core DNA: creating beautiful designs that create the biggest possible impact".
The more products sold, the more people are helped. But also, the more raw materials are recycled, water is saved etc. It is all inextricably connected
Impact that moves
Initially, i-did started as the "i-did_slow fashion_movement". But the organization is taking it beyond fashion. Besides, the movement is already coming to life in the practical translation of what i-did does. Creating true impact that counts – and that moves the people i-did is working with and beyond. The enterprise is still facing many roadblocks and challenges that come along with being a social enterprise. However, scaling up the impact is leading. How? By involving other cities and even other countries and by sharing their recycling methods. This will enable i-did to scale textile recycling and grow everything they do. To gain social wins as well.
That's how this impact creator is – and becomes an even bigger – social and circular educator. Learning more and more about the psychological journey of their workers every day. And teaching the world about the importance of keeping the circle round. "Always keep looking around to see what changes you notice and always anticipate. Move with the crowd. There's never one way of how things 'should be done'." An impact creator to learn from. With this in mind, we hope that i-did is able to overcome its biggest challenges, like managing its inflow of participants. When they do, they'll be able to keep pushing their goals – and teach us all about it along the way!
More Positive Impact stories? Keep track of our Facebook and LinkedIn pages.