Our impact in 2017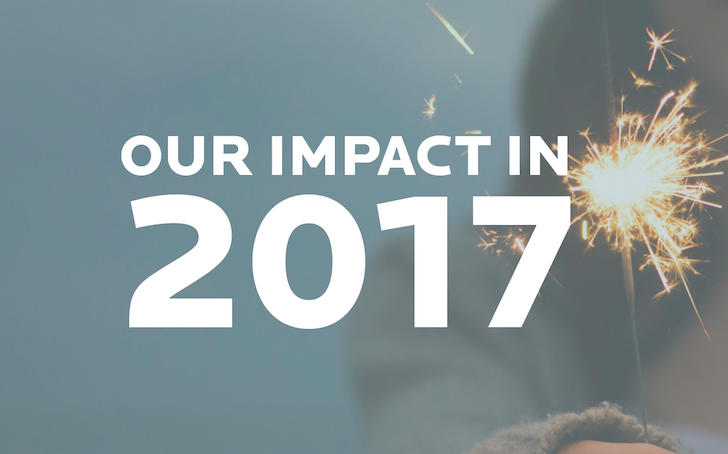 The end of the year is coming closer. Since we are positive impact creators, for us the biggest present under the Christmas tree is in the positive impact we've created over the last year. Together with and on behalf of our clients we were able to create massive impact in 2017. Do you want to create impact in 2018? With our impact toolkit we can guide you towards lasting impact.
We are proud that more and more companies start to understand that they need to search for the sweet spot where their strengths, the needs of their audience and the world's needs meet. That's why we always align your sustainability activities with your brand DNA and purpose. Those are the main ingredients of your impact focus. We have created a clear sustainability focus for over 20 companies in 2017 and helped them find focus and translate this to their employees and most important audiences.
OUR 5 AREAS OF IMPACT IN 2017
What are the areas we made the biggest impact in over the last year? These 5 areas showcase a clear lookback on 2017 and enable us to share with you how our activities add up.
1 . Boosting the fair consumption movement       
Every single fashion item has a story, from the cotton grown to the design item in store. Still, every 1 out of 3 items sold are not worn! Think of these items in your closet and the impact you make with your purchase decisions. Together with our clients, we aim to grow the movement for sustainable consumption. What's the story behind your purchase?
With our materiality analysis and impact branding methods, we supported MYOMY in creating their fair fashion movement with iconic design and the positive icons that wear it. With Noppies, we contribute to a happy world, with more than just fashion. The strategic sustainability concepts for every brand, support future generations and their hopes & dreams.
2 . WASH: The key for life & health for all

Close to a billion people worldwide still lack access to clean water. Not only a condition for health, but a need for life at all. Existing interventions are not delivering as quick as the world needs them, so we aim to take a creative look at ways to improve and accelerate this process.
We supported WASH Alliance in changing mindsets and creating a sustainable WASH sector that can accelerate. Can we setup local, thriving business from a global need? With Football For Water we aspired 100,000 children in Ghana and Kenya and changed the game of WASH for kids with our WASH ambassador heroes. The creative concept we developed for MadeBlue, enables the startup to realize its mission of providing millions of liters in developing countries, throughout the coming year.
3. Disrupting the journey of your product
Creating a beautiful, tasty or comforting product does not just involve the end of your supply chain. Together with our clients we created radical changes in their value chains and shift focus from the last stage to the whole journey of the product. In the end, a great product is great because of the way it's made. That's what makes people buy it and underlies the positive impact.
For example, Eduardo is one of the many proud arista's (local farmers) at Obrigado Coconut Water. He proudly codes each tree to ensure the farm's efficiency, something that could evolve into blockchain technology. Unique light and O2 free extracting methods are used, to produce the tastiest and healthiest coconut water for us. With tea brand FRANK, we show all the benefits of direct trade by exposing their wild & bold brand. For Return to Sender we created a model with all elements of fair entrepreneurship integrated in it, to empower their 10 production partners worldwide, while sharing the personal stories of the makers.
4. Changing the game of food
The impact of our food consumption exceeds all other impact areas and we're not even that aware of it yet. Do you know the story behind your meal? We need to change the way we farm and eat to be able to feed the world by 2050.
Together with the farmers of Green Banana, we try to think differently and setup the shared savings model, which enables them to turn post-harvest losses into green proteins. With innovative start-up Urchinomics we aim to restore the underwater ecosystems, which are from utmost importance for life on this planet. Both Green Banana and Urchinomics consumers can this way just "eat the change". And that is where our aspirational marketing experience comes in.
5. Creating cities into impact hubs
There are 7 billion people in this world, and half of them are living in the cities. There's an immense need to create positive impact hubs out of our cities. What can we achieve when we start transporting the excess of energy & warmth from cinemas to households nearby? What about big companies going circular with their waste streams and optimizing energy-efficiency levels?
We set-up sustainability strategies for clients like Tele2 and Pathé. Our impact analysis and materiality scan led to a clear picture of what they need, what they can share and how to cooperate with others within the future impact hubs they're located. Rolling these impact strategies out in daily operations is the start of something big. That's how we empower them to fulfill a leading role within these hubs, on a social, economic and sustainable level.
The bigger picture: the Sustainable Development Goals
As Rainbow Collection we love bigger pictures. That's why we connect the impact areas we showcased above to the bigger impact indicators of our modern times: the sustainable development goals (SDGs). Impact means focus, so which of these goals will be the focus topics of your business? We all have one shared objective: making positive impact to create a better world. Common focus areas enable us to generate even more cumulative impact from business.
So, do you want your business to be ahead of "CSR compliance" from 2018 onwards? We'd like to invite you for our impact-scan: how can you put your business in favor of impact and how can we support you setting up an impact strategy that's 2018-proof and even supports the global SDGs?
Imagine what your business could mean for the world when the biggest impact topics get identified and rolled out into daily operations. It's might be quite a search, but it's the only roadmap towards 2030 possible.