Rethink your business in exceptional times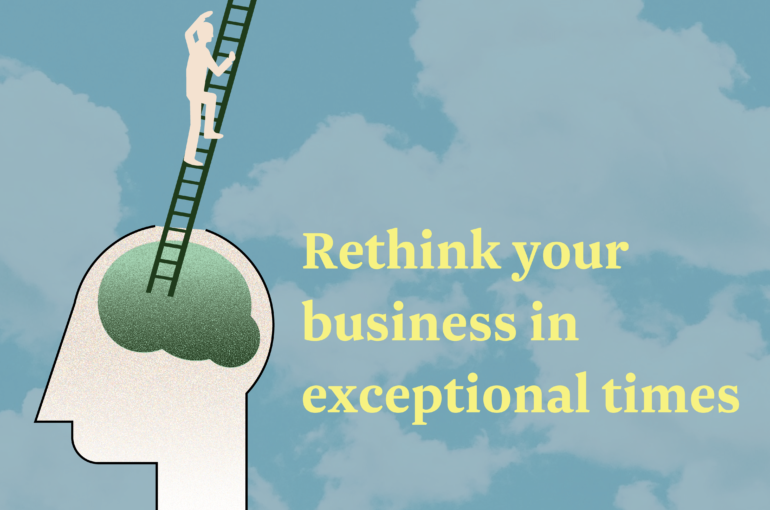 Cases that make a difference
By now we know there is a direct relation between our behavior and the Covid-19 crisis. Due to human interventions, the virus was able to transit from animals to humans. Scientists warned for this to happen, and it did happen. Even though we had a choice in how we use our resources and what consequences we will face overtime.
But as the saying goes, never let a good crisis go to waste. Let's approach it as a potential reset; let's change our mindset, our behavior, our businesses. Let's turn the current situation into an opportunity for a sustainable future. As written before, the regenerative and new economy is the big growth story of the next decade.
For years, we were fully consumed by our daily operations. We didn't have time to reflect on how to change the system, that our organizations very much depend on. Now that Covid-19 forces us to take a break, we might be able to use this pause and change the situation we're currently in.
#rewiringfashion
For example, have you ever wondered why winter jackets are sold in August? And why there are mid-season sales?
In an open letter to the industry, a group of independent designers, executives and retailers from around the world, like Selfridges, Acne studios and Gucci, state that the current environment presents an opportunity for a fundamental and welcome change. It will simplify fashion businesses, making them more environmentally and socially sustainable and ultimately align them more closely with customers' needs.
This group clearly considers the Covid-19 crisis as an opening for dialogue and opportunity to rewire the system around a fresh set of principles. They are trying to set a fashion calendar that is in sync with the end customer and sustainable for industry professionals.
Selling winter collections in winter will prevent markdowns, leading to healthy profits along the value chain. In line with these ideas, another group of fashion professionals shared a new calendar proposal on #rewiringfashion.
The start-up advantage
As we see with the rapid contamination of COVID-19: we are all indispensable links to fight the problem. This is exactly the same for the longer-term crises that are awaiting, like climate change. By turning the tide towards a new and sustainable economy, we can create "group immunity" for the earth.
While the open letter is written by industry professionals that depend on the current system, start-ups are able to rewrite value chains from the start.
Of course, they have to find ways that fit the economic system for their businesses to succeed, but they have the opportunity to break loose at some point(s).
For instance, our customer Bloomon started with the idea to cut the middlemen when they invented their flower-service. And working directly with growers, gives them a chance to work more sustainable as well. It gives them the opportunity to do research and work on innovations that reduce their environmental footprint, while the flower industry is still occupied with business as usual.
The best part is that the end customer can enjoy their sustainable flowers for a longer period of time. They get more value for money as the journey from land to vase is much shorter than in the traditional flower value chain. Time well spent, brightening the homes of Bloomon's customers.
Another example of the start-up advantage is Everlane. This US based fashion brand started with a similar idea: cutting the middlemen. They buy timeless, qualitative collections, made in carefully selected ethical factories and sell these directly to end customers, without the markups that normally go to the middlemen.
Everlane has a different market approach with a clear story and advantage for the customer; a sustainable product with exceptional good value for money.
We're all in this crisis
Now that we're all in the middle of this crisis, we all have the opportunity to not let this crisis go to waste. Every organization can reconsider their choices to become more sustainable. With small or big steps that match your strategy and both you and your customers' needs.
Ready to rethink your business?
Join our RETHINK MY BUSINESS
workshop. Rainbow collection offers you a 2,5 hour remote workshop that gives you and your team fresh & clean ideas on how to make your brand more sustainable and futureproof
.