How to… find inspiration on sustainability?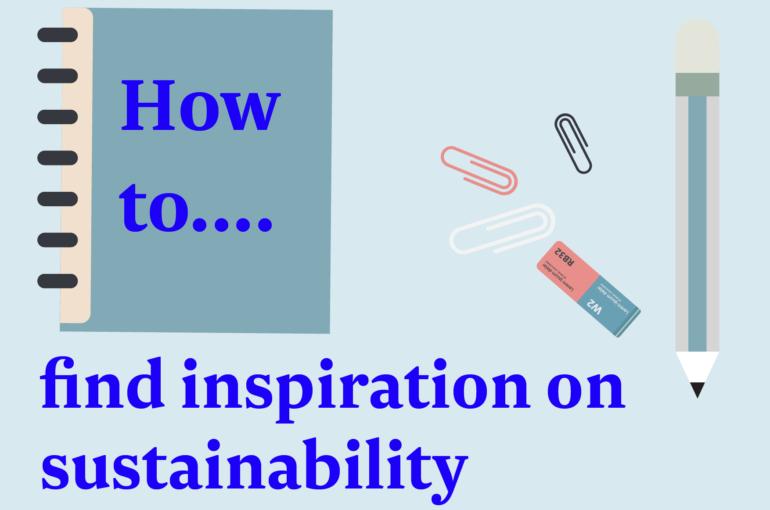 We're constantly looking for new information to inspire us, every morning your mailbox is filled with newsletters and your timeline is full of new articles and blogs. Nevertheless, finding sources that are informative and nice to read can be hard. Therefore, we've listed our favorites for you!
Whether you're exploring the right decisions for your business when it comes to sustainability, or you're leading by example with transformative decisions or an innovative business model: sustainability is a journey for everyone. You might be fully occupied with daily operations, that require full attention. That's why we composed a fun and inspiring list of sustainability inspiration (with content in Dutch or English). Ready to dive into…
Stay up to date…
• Duurzaam Bedrijfsleven: shows the performance of innovative companies from all sectors. From start-ups and SMEs to multinationals, all translating sustainable entrepreneurship into a healthy business case. Their website (or podcast) keeps you up to date with the latest news, innovations and initiatives. You can search on subjects like mobility, future food & health or logistics. Great advantage: you can create your own newsletter! Just choose the topics that you're interested in and the quantity that suits you. Besides the website and newsletter, you can find some of their blogs on LinkedIn and their podcast on Spotify.
• Duurzaam Ondernemen: an online knowledge center for corporate (social) responsibility (CSR) and sustainability. They offer information about what CSR is, the last news in the field of sustainability, columns and interviews with experts and changemakers. All under the SDG "umbrella" sustainable consumption and production! (they are growing their English content). Besides the website and newsletter, they also host a LinkedIn network group for professionals in the field of CSR and sustainability.
• Fashion revolution: a fashion activism movement by the industry and the public. The goal is to create a clean, safe, fair transparent and accountable fashion industry. They are action-oriented and solution focused. They won't leave you with a feeling of guilt, but help you recognize that you have the power to make a positive change! You can sign up for their newsletter, but they're also active on Instagram.
• Change Inc. uses content, events and services to connect, inspire, inform and activate as many people as possible. They work closely together with companies where change is not an issue on the agenda, but the new business model. From large listed companies to start/scaleups and SMEs, as long as you dream, dare, doubt and realize you can be a changemaker. If you're looking for sustainable initiatives, articles or inspiration, this website is the place to go!
"We don't want our clothes to exploit people or destroy our planet. We demand radical, revolutionary change." – Fashion Revolution
• Of course, on our Rainbow Collection blog you'll find inspiring cases, but also inspiration on B Corp, impact campaigns, changemakers, rethinking business and much more. The upcoming period we will focus more on 'How to…'. Practical tips, tricks and tools as guidelines to get started with sustainability. Make sure you're not missing anything and sign up for our newsletter and follow us on Instagram and/or LinkedIn!
More in the mood to watch?
• The story of stuff started with a fast-paced, fact filled short online documentary about the downside of our production and consumption patterns. This documentary unleashed a deluge of pent-up demand for an honest conversation about the consumption culture we live in. Since then, the story of stuff produced several short documentaries that outline a path to a fairer and more sustainable future.
• The documentary "The true cost" is a must-watch when you're in fashion. It's shines a light on the race to the bottom, while human and environmental costs have grown dramatically. What is the real price of our clothing and who pays for it? The documentary is a collage of interviews, from the brightest runways to the darkest slums.
• VPRO Tegenlicht is a future affairs-program, balancing on the edge of storytelling and journalism. With almost 50 episodes about different sustainability issues, it's very likely that there is an episode that inspires you! Like the one on the 'donut economy', or the episode sustainability: now or never. Referring to the need for sustainability amidst the corona crisis. Make sure you check their articles and podcasts too! (They are growing their English content).
"Business today is still focused on infinite growth: it's not possible" – Kate Raworth
Some inspiration on the side..
• Voor de wereld van morgen is "The platform that inspires you to become increasingly sustainable". If you're looking for practical directions on how to design your life sustainably (and what brands and initiatives support you with it), VDWVM is the one to check. Make sure you sign up for their newsletter and follow their Instagram, we guarantee some serious inspiration!
• Growthinkers gives you inspiration and recommendations for a conscious and sustainable lifestyle. It's build on three pillars: growth, minimalism and sustainability. Their articles provide more information about such a lifestyle, but also give you directions to get started yourself. More into listening? They also have two different podcasts: 'the green heart' and 'what is success?'. Besides their website, they also are active on Instagram.
"Tomorrow is invented today." – Change Makers
If you have any suggestions, please let us know!