How to… take international CSR to the next level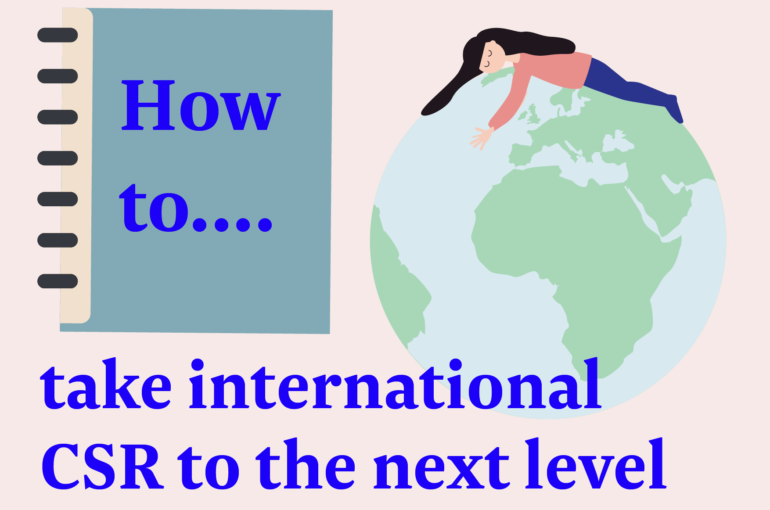 Collaboration and legislation
Supply chain practices often come at a (social and environmental) price. It's good news that companies are becoming more and more aware of their impact and take steps towards improvement. Why? Because unsafe sewing workshops, underpaid farmers, depleted soils or unheard local trade unions in producing countries are often no exception. We are aware of wrongdoings like these, which should be ended. It's already made clear that we have to rethink business to do this and many steps are being taken. So, why can supply chain abuses still happen today?
Business prioritize social and environmental issues more and more, and they know why their operations should be redesigned. There are many sectorial agreements on sustainability, in which businesses collaboratively work on due diligence and CSR improvements. Such initiatives stimulate (international) social responsible business behavior and contribute to companies' awareness and knowledge. They even facilitate steps made by companies to act more sustainable. However, because these agreements remain voluntary, actual change often stays out. Businesses are requested or advised to act in line with internationally recognized guidelines, such as OESO and ILO. But this isn't mandatory (YET!).
What is due diligence & why is it important?
Due diligence means that companies should identify and report what impact their business operations have on the environment, working conditions and corruption. Possible risks in their supply chain should be minimized, otherwise: abuses are the effect. It is challenging to guarantee that all their products are manufactured in a responsible way. But a clear CSR strategy, compliance policy or monitoring mechanisms can help out.
Due Diligence legislation
Now, the question is whether due diligence legislation will be implemented; forcing companies to identify and report the impact they have. Making due diligence mandatory will reinforce the current collaborations between companies and other parties, such as the sector agreements. When mapping the impact they have becomes mandatory, the collaborative efforts and connections between business and NGOs, trade unions and other parties becomes more effective. The socio-economic council (SER) stated this too: combining stricter legislation and collaboration creates the positive impact we need. They advise to implement due diligence legislation.
How can you stay ahead of due diligence legislation and translate it to your business?
Key steps to take as a business:
Take a stand: create a policy, based on your vision and translate it to a code of conduct. This requires your suppliers to act responsibly in line with your code. Also, request CSR and sustainability policies at your suppliers. It helps you to select the best suppliers that share your principles and work towards a pool of reliable partners.
Review your supply chain: transparency is the key to control. Keeping your supply chain as short as possible will help you with transparency. So consider intermediaries, traders or mediating organizations that make your supply chain more complex than needed.
Use international frameworks and standards as a guide. It helps you to ensure compliance both on social and environmental level. You don't need to figure it all out by yourself: there are acknowledge and recognized set-ups to use (like the OECD guidelines, the ILO conventions or UN Guiding Principles).
Check audit information: most social standards use these same international frameworks and conduct audits, like BSCI, Sedex, Wrap and many others. Some are sector specific, others are relevant across sectors (like the ones mentioned). Request and review audit reports. Audits are no goal in themselves, but great means to help you identify sore spots.
Review your purchasing practices and create consistency. Make sure you are not the one obstructing improvements in working conditions: your position should facilitate an ethical responsible supply chain.
And of course: seek collaborations: with NGOs, with other businesses, within the sector or broader initiatives (see an overview of sector wide agreements here).
At Rainbow Collection, we help companies towards a better business with clear steps. Curious what those steps are? See the image below.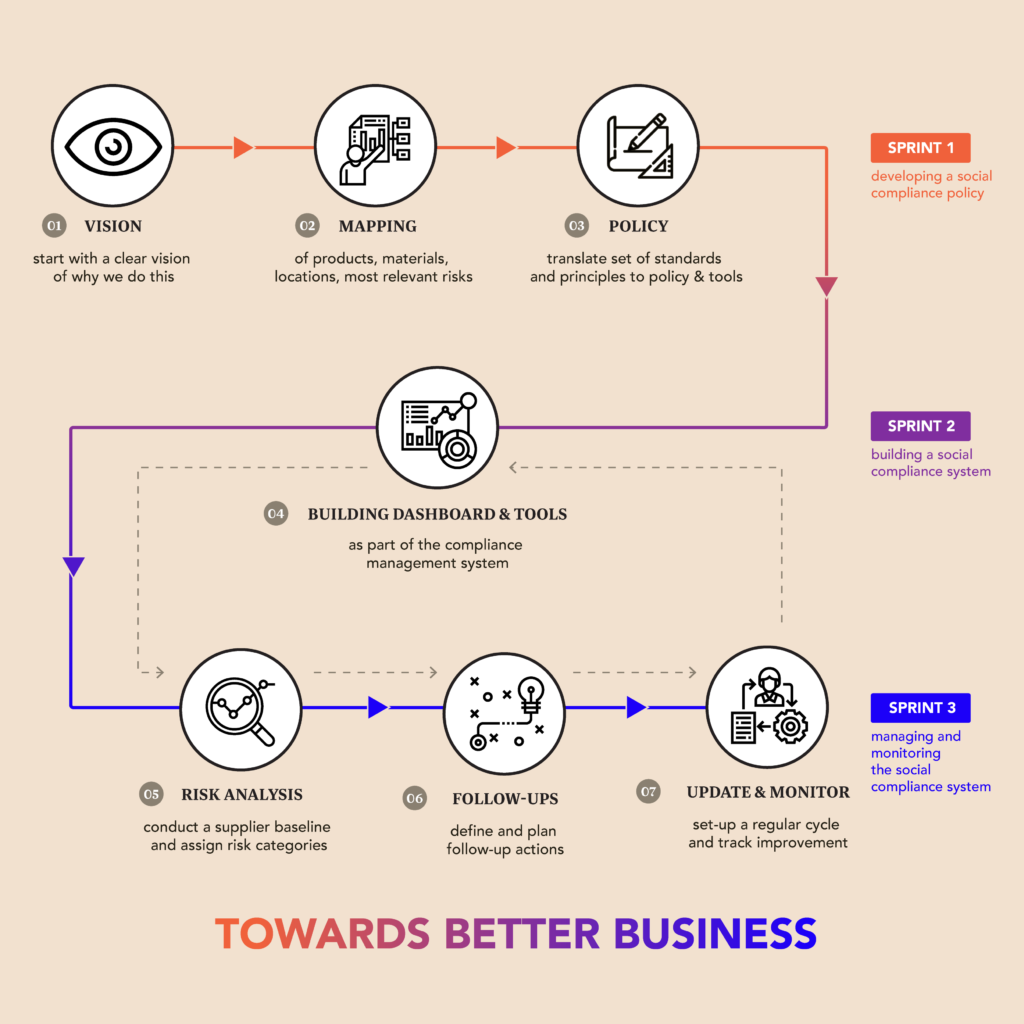 Want help with any of these steps or wonder how you can move towards due diligence? Contact us with your questions or challenges.
Also: we are partner of IDVO.org, to support due diligence legislation. Want to be part of it too? Check the initiative out.